home
/ tecnología / Anboto Virtual Vendor GEN V
GENERATION V TECHNOLOGY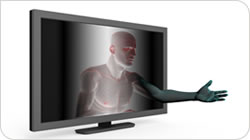 Thanks to the combination of Anboto's Natural Language Processing technology together with its Natural Dialogue engine, the first 5th Generation Virtual Assistant is born, according to the classification of the prestigious consulting firm GARTNER.
Anboto also provides online solutions through Personal or Virtual Vendors, surpassing the traditional model of virtual assistants.
This breakthrough in the relationship between users and smart agents or vendors is constructed based on a significant improvement in communication, the state of current technology, and Natural Language Processing by the disambiguation of queries through five analysis: morphological, syntactic, semantic, pragmatic and functional; generating a dialogue similar to human dialogue.