NEWS & EVENTS
After more than 30 Pitch Slams on five continents over the last 10 months, Anboto Group was named the Startup of the Year at Guidewire Group's Innovate!Summit 2010. The announcement came at the end of the final Pitch Slam of the year, which featured presentations from the 16 companies that ranked among the highest based on their G/SCORE and company stage.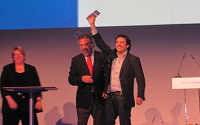 The award honors Anboto Group's spot at the top of the Innovate!100 List for 2010. The List identifies high-potential and fast-moving companies around the word. Based in Bilbao, Spain, Anboto Group develops outstanding semantic technology to provide automated customer service avatars to support e-commerce and customer support applications.
"As proud of this award as I am, it is now my responsibility to make sure that you will all be proud of me and Anboto Group," said founder and CEO Xabier Uribe-Etxebarria.
The Startup of the Year Award was presented to Xabier by Zaragoza Mayor Juan-Alberto Belloch and Guidewire Group CEO Chris Shipley.