home
/ noticias y eventos
NOTICIAS Y EVENTOS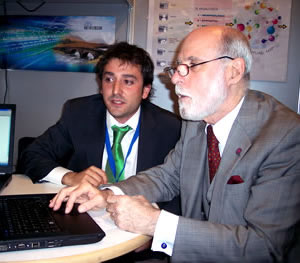 Vinton Cerf tries the system successfully,
accompanied by Xabier Uribe-Etxebarria, of Interlan
JAVIER PÉREZ - 24/04/2009 ABC
The system disambiguates words and processes meaning. Metalingua system breaks the language barriers in the Web.
Madrid, April 24th 2009- InterLan, the Spanish technology firm dedicated to developing software systems, has launched officially the last version of Metalingua, its innovative technology, at the www2009 Conference. The Conference has been hosted by Tim Berners Lee (Web inventor), and Vinton Cerf (known as the 'father' of the Internet).
During the Conference, the system has been visited and put to test by experts such as Vinton Cerf (TCP/IP Designer, Google´s Vice President), Dale Dougherty (who coined the term Web 2.0), and Dame Wendy Hall (President of Association for Computing Machinery and Web Science co-founder), who valuated very positively this technology. Some other members of the Conference also became interested in learning more about the system, being among them Alfred Z. Spector (Google´s Research and Special Initiatives Vice President), and Richard Ishida (W3C).
Language barriers prevent many users from sharing web opportunities in different fields: education, training, communication or economy.
If a series of software facilities existed that allowed the speaker of a minority language to work on the Internet in that language, regardless of the source language of the documents or the content on which he is working, this user would find that the Internet allows him to work in his/her mother tongue to a greater extent than in the past, thus enabling him to actively use this language in the workplace and make it develop according to his/her needs.
In that context, InterLan has launched Metalingua, which aims to facilitate multilingual communication and, in particular, to protect and develop the use of different languages. It is an engine that processes natural language in an intelligent way, via a knowledge representation system, thus enabling multilingual communication through the translation of any source text in one language to any other language, including natural and artificial languages (SQL, etc.).
Thanks to Metalingua technology, Interlan has developed the first semantic and multilingual search system. In addition, its multilingual translator is able to break the language barriers.
Instead of performing a literal translation, Metalingua works with concepts, which means that when a new language is entered, the user needs to define key words in the target language for each concept. The disambiguating process involves five analyses of each term: morphological, syntactic, semantic, pragmatic, and functional.