Noticia publicada en NBC29
Guidewire Group Announces the Innovate!100 List of High-Performing Startups Around the World Semantic technology-driven Anboto Group takes the No. 1 spot, Startup of the Year title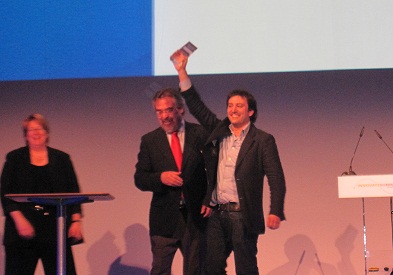 Guidewire Group, Inc., the startup analyst and advisory firm supporting the global Innovation Ecosystem, has announced the 2010 Innovate!100 List of high-potential, fast-moving startups worldwide. The list is the result of a year-long Innovate! program designed to identify and promote young companies and the entrepreneurs who drive them from idea to sustainability.
Throughout the year, Guidewire Group and its partners conducted Pitch Slam events in 30 cities on five continents, evaluating startups based on the G/SCORE(TM) Assessment Methodology. The G/SCORE measures companies on seven key factors of business execution providing concrete feedback on where the company is today and where it needs to go in order to build value into the business.
"Guidewire Group congratulates the 100 companies that made this inaugural list," said company CEO Chris Shipley. "As importantly, we are impressed by every company that used this program to better understand where its business is today and where it needs to go in the future."
Anboto Group took honors as the No. 1 company in the List's inaugural year. The Bilbao-based company leverages semantic technology expertise to provide solutions that enable easy and smart interaction in natural language between customers and computers. "We are really proud to be on the top of the list especially considering the renowned experts at Guidewire Group who had made the decision," said Anboto Group founder and CEO Xabier Uribe-Etxebarria. Now, it's our turn to make the judges proud of their decision and work hard to be the next global leader."
The Innovate!100 List includes the top-scoring companies from each regional Pitch Slam event, the overall top-scoring companies, and the top-scoring companies from each stage of development tier based on product development and revenue generation. Rank order was determined by several factors, including velocity of company growth and individual scores in each of the G/SCORE categories. This year's winners hailed from 15 countries with France, Spain and the U.S. having the most startups in the Top 100. The number of early-stage companies on the list by country include: Australia (9) Estonia, (5), Finland (4), France (13), Germany (2), Ireland (3), Israel (5), Italy (6), Netherlands (5), Norway (1), Spain (12), Sweden (3), Turkey (4), United Kingdom (7) and United States (21). The top 10 companies on the Innovate!100 list for 2010 are:
The Innovate!100 List 2010
Rank Company Country 1 Anboto Group Spain 2 Artesian Solutions United Kingdom 3 RedOxygen Australia 4 NUMENUS GmbH Germany 5 ividence France / United States 6 myERP.com United States 7 Relay Foods United States 8 Intelia Consultores Spain 9 SocialSmack United States 10 NUITEQ Sweden
For the complete Innovate!100 List visit http://bit.ly/fcRx2Q
About Innovate!2010 Innovate!2010 is a global program designed to identify and promote technology-centric startups via regional Pitch Slam events held in cities around the world. More than 500 companies in 30 cities on 5 continents participated in the 2010 program and received an assessment of their business using Guidewire Group's proprietary G/SCORE (TM) methodology. Innovate!2010 sponsors and partners include leading organizations like Alcatel-Lucent, BestBuy, Cisco Systems, Comcast, EMC, HP, HSBC, Hearst, IBM, LG Electronics, Microsoft, Quickstart Global, PayPal, RIM, SAP, Silicon Valley Bank, Sony, SWIFT, Telefonica/O2,Turner Broadcasting, Verizon, and the City of Zaragoza; as well as European and U.S. economic development agencies, and dozens of leading angel and venture capital investors.
For more information about the program, visit www.innovate100.com.
About Anboto Group Anboto provides Web-based customer service technologies based on Semantics and Natural Language Processing that reduce costs and increase sales of products of services. The main products of Anboto Group are Virtual Sales Agents and Intelligent Chats. More information can be found at www.anbotogroup.com.
Guidewire Group, Inc.
Guidewire Group is a global advisory firm providing, assessment, benchmarking, mentoring and networking for early-stage companies, economic development agencies, incubator programs and corporations interested in the global innovation ecosystem. Leveraging over 30 years' experience working closely with the world's most promising technology startups, Guidewire Group delivers tools, data, and curriculum to foster sustainable companies and economic growth. Our trademark programs, G/SCORE (TM), Innovate Summits and Studio G help companies define their global market landscape and create paths to success. For more information about our programs and services visit us at www.guidewiregroup.com
Media Contact
Erica Lee
StrategicLee, Inc.
erica @ strategiclee.com
+1 415 359-7322