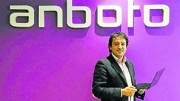 Who we are
and what is our project
Anboto provides Web Customer Service and e-Commerce technology based on Semantics and Natural Language Processing to reduce costs and increase sales. The main products of Anboto are the Virtual Sales Agent and Intelligent Chat.
more information
TV & Press hot news


Published in The Wall Street Journal


Published in NBC29
Anboto Group takes the No. 1 spot, Startup of the Year title
Some of our customers
Case Studies

"We have reduce a 38% of the inbox e-mails without reducing the customers satisfaction level". "The ROI is about 4 months so it has been a fantastic investment."
White Paper

Research
Anboto awarded as

Anboto awarded as 'cool vendor 2011' by Gartner.
Events

Follow us on
Contact
Anboto Europe
Legazpi 6, 2
48950 Erandio-Bilbao - Bizkaia
Tel: +34 94 463 01 01
Fax: +34 94 431 60 28
Anboto US
806 Winslow Street
Redwood City, CA 94063
Silicon Valley
Tel: +34 94 463 01 01